Over the last few years, it seems that there are more and more abandoned docks pulled up on the shorelines of Big and Little Kennisis. After 60 plus years of property ownership and enjoyment of our lakes, it makes sense that owners have had to replace docks; things just deteriorate. Having said that, most of us have broken down our old docks and re-purposed what we could, removing and disposing of the remaining bits from the shoreline.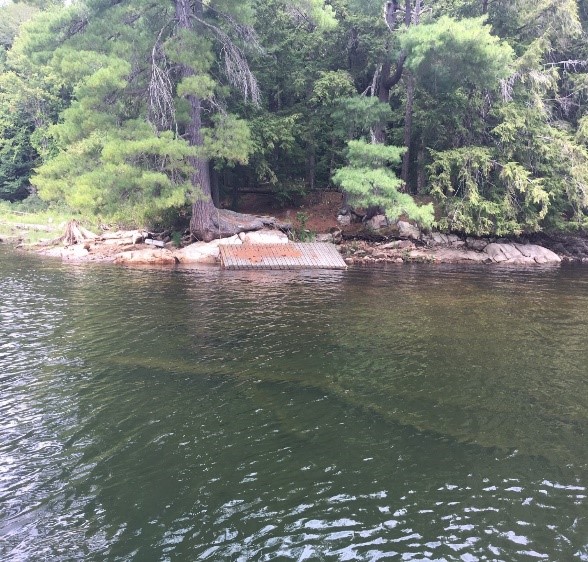 Unfortunately, some property owners have just pulled their old docks into bays and resting place and have abandoned them; not sure what they thought would happen to them. Over the last couple years, some of these docks have created potential navigational issues during our high water season. Not the least, they are truly unsightly in our otherwise beautiful environment.
We understand that many of us move our docks into sheltered bays for the winter and return them to our properties the following season. These are not the docks that are at issue, nor are docks that are used for swim platforms, etc. One simple suggestion is to add your contact information to the dock so that it is clear that there is a dock owner.
The KLCOA is initiating a special program in 2020/2021 to identify docks that are unclaimed. The goal is to identify, dismantle and dispose of abandoned docks. It's disappointing that we have this problem, but we hope through education and this one-time clean-up, that we will not have to address this concern again moving forward.
In 2020, the program will start with communication and education. Throughout the summer of 2020, we will then begin identifying docks that appear to be abandoned. We will tag each dock, create a pictorial inventory and reach out broadly to clarify the status of the docks. We will leverage our website, e-blasts, newsletters and social media to share information and communicate.
Then, in 2021, when it is clear that a dock is truly abandoned, volunteers will dismantle and dispose of it from our lakes – it is expected that this will happen in mid-July, 2021.
Note: the goal is to tackle abandoned docks from "resting places" on Big/Little Kennisis – not docks from personal property. We each have a responsibility to dispose of personal property in a safe and appropriate manner.