Art on the Dock (AOTD) is a "studio tour" type event that takes place each summer on the docks and decks and in the cottages and garages around Kennisis Lake.  Visitors tour the lake by boat or car to view and purchase items displayed by artists who live on Kennisis and their invited guest artists.  A wide variety of fine arts and crafts are displayed at locations (docks and cottages) all around our lakes.  Locations and artists are selected through a registration and review process each winter.
The KLCOA has organized this event each summer since 2015 and through it raised thousands of dollars in support of the local Artists in the Schools program.  It is also a great way to meet others who live and work around the lake.
The 2019 Art on the Dock event will be held July 13th and 14th.  The program for 2019 is available by clicking right here.
Here is the map showing all of the locations for 2019: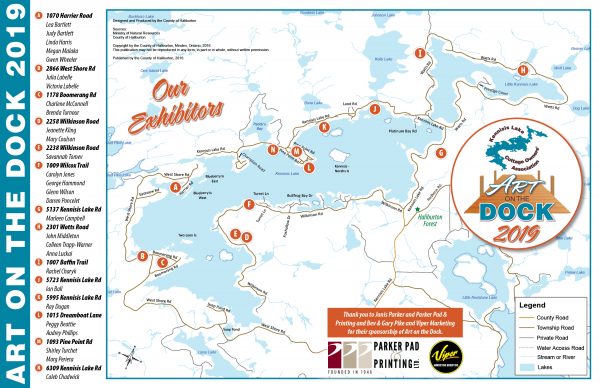 Click here to download a copy of this map.
Information about the 2019 Art on the Dock Limited Edition Print is available by clicking here.